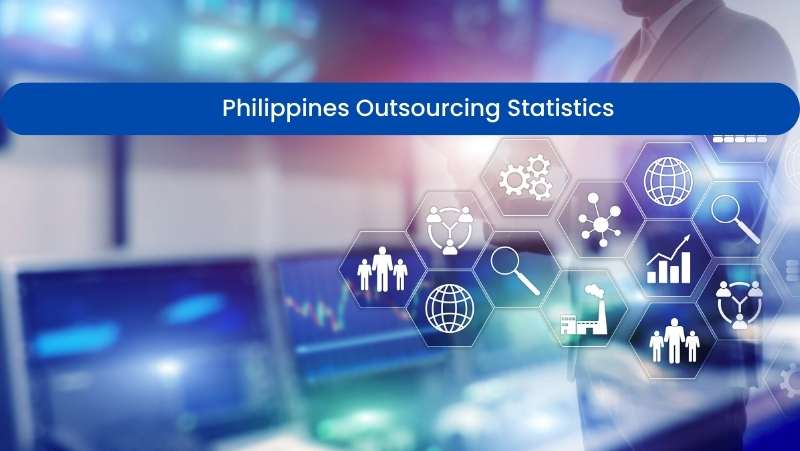 The world becomes a smaller place each year for business interactions. With improvements to technology and information access, the best way to be competitive in any industry is to look for outsourcing opportunities.
When hiring a workforce that operates in a different location, a business can experience lower overhead costs, increased growth, and improved service quality. These functional improvements can eventually lead to more profits.
In a world filled with disinformation, it's crucial to make decisions based on facts. That's why these essential Philippines outsourcing statistics are worth reviewing. You'll find the data you need to determine if this opportunity is suitable for your business.
List of Philippines Outsourcing Statistics
According to Nexford University, the BPO industry employs 1.3 million people in the Philippines each year, contributing approximately $30 billion to the global economy.
Over 1,000 BPO companies were operating in the last fiscal year with available data, showing that growth approaches 10% annually. Estimates show that the Philippines holds up to 15% of the global business process outsourcing market.
Clutch performed a small business BPO survey in 2019 that showed the three most outsourced services were accounting, IT services, and digital marketing. Over one-third of companies said these investments were important.
Additional options include data mining and input, transcription services, game development, and animation.
Information from Aptude shows about 300,000 jobs are outsourced by the United States annually, with larger companies about two-thirds more likely to invest in BPO than small businesses. That's why by 2025, Statista reports that the global IT outsourcing market alone could be worth nearly $400 billion.
Outsourcing Comes from Everywhere Today
In the past, the primary source of outsourcing opportunities came from the United States for voice, IT, and BPO. According to metrics assessed by AT Kearney, the Philippines reached the top 10 for the first time in 2019.
American overseas affiliates hired over 14.4 million workers in 2018, which continues to grow. The Balance reports that employment was in multiple sectors, ranging from call centers to manufacturing.
68% of industry leaders credit cloud-based technologies for helping this growth occur. Single-instance ERP and RPA are also credited as digital enablers that help companies save money through BPO.
Deloitte also notes that technology brings some disadvantages, such as automation. 58% of companies that think about outsourcing also implement artificial intelligence structures to facilitate new efficiencies.
Although automation creates cheaper outcomes, AI still needs people to set up and monitor it. That means a human workforce is still necessary, especially one trained in IT. Philippines outsourcing opportunities can help companies stay lean while remaining active within a competitive environment.
Recovering from COVID: Philippines Outsourcing
Forbes notes that remote work could rise to 300% of its pre-pandemic levels in the coming years. It's no surprise that people would telecommute or join the gig economy when movement restrictions are active. Still, the joy and prosperity that came from this opportunity is something that workers don't want to lose.
That's why the BPO industry fared better than most during the pandemic. Sprout Solutions found that 31% of outsourcing agencies let people work from home, far exceeding information and communication (9.79%) with this flexibility.
Business Process Incubator (BPI) notes that 85% of outsourcing opportunities still come from the United States. The jobs that aren't American-based often originate in Australia or the UK. Employers still report that they lack candidates with the proper skill set and that 31% of companies are affected by employee shortages.
BPI also notes that several statistics prove that outsourcing can be a powerful weapon in a company's toolbox. 80% of global businesses see their BPO partner as a positive relationship, while 74% of IT companies outsource processes. Even more than half (59%) of businesses still see outsourcing as a cost-cutting decision.
Businesses want to outsource legal teams, HR duties, marketing, and more to run more efficiently. The Philippines BPO industry has the people and tools needed to accomplish those results.
Outsourcing Provides Additional Benefits to Consider
Although cost reduction is back in vogue, Deloitte found that companies have four other objectives under consideration when incorporating outsourcing as part of their business plan. 40% want the extra flexibility this investment provides, while 20% say it helps with their speed to market.
Another 15% of businesses told Deloitte that outsourcing gave them access to better tools and processes. That's the same percentage that listed "agility" as an important objective.
Although Outsource Accelerator notes that the Philippines is ranked 27th in the world for English proficiency, the country is the second-best option in Asia. With a literacy rate of 98.19% and an employment rate of 93.13%, there is full government support to develop outsourcing opportunities.
The Philippines also offers a culture of customer service excellence. Hospitality plays a crucial role in the economy, which means the approach is already client-centric. By investing in these resources, many businesses find that they can improve services while reducing costs. It's a concept called "pakikisama," which means to get along with others in its most basic form.
Business Mirror reported that the income from the BPO industry in the Philippines helped fill the remittance dip that happened at the start of the pandemic. As COVID reaches its endemic stage, numerous opportunities to pursue new trends will become available.
What Trends Will Be Seen in Philippines Outsourcing in the Coming Year?
As the world uses 2022 to push toward normalcy, the emphasis will be on providing an enhanced customer experience.
Before the pandemic, businesses saw CX as their key differentiator in a crowded industry. The events of 2020 showed how it could literally save a company's existence.
With businesses seeing that a unique customer experience delivers results, they'll look to find more outsourcing opportunities to invest in more options. That means more chances are likely possible in benchmarking services, mystery shopping, real-time omnichannel experiences, insight management, and customer journey mapping.
Times have been tough, but they are getting better. As these Philippines outsourcing statistics show, adapting to the industry's new trends and norms can help all businesses achieve more while spending less.